Blu (Jesse Eisenberg) and Jewel (Anne Hathaway), the macaw lovebirds in the first "Rio" movie that hit it off with the world and sent the box-office flying high are back in "Rio 2" with the entire original cast and a new set of fine actors and musical talents.
Watch the latest international trailer of "Rio 2" here: http://www.youtube.com/watch?v=7ZxrlLARycE&list=PLcZs6n5iZPx_THQ8_QjSrpxKfqOdHsc2k
"Rio 2" continues the grandeur of adventure as we see Blu and Jewel raise their children while unexpectedly meeting relatives in the wild and dodging dangers brought about by familiar and new set of villains. Together with their oddball company of friends, Blu and Jewel venture from the magical city of Rio De Janeiro the wild Amazon to raise their children. Along the way, they rediscover Jewel's long-lost father Eduardo (voiced by Oscar nominee Andy Garcia) and all kinds of new friends and baddies set to rock the Amazon jungle with laughter and exciting adventure in 3D.
Also reprising their roles are George Lopez, Tracy Morgan, Will.I.Am, Jemaine Clement, Leslie Mann, Rodrigo Santoro and Jamie Foxx. New characters are voiced by an all-new stellar cast as well including Oscar® nominee Andy Garcia,Grammy® winner Bruno Mars, Emmy®/Tony® winner Kristin Chenoweth, Oscar®/Emmy®/Tony®/Grammy® winner Rita Moreno, "The Hunger Games'" Amandla Stenberg, singer/actress Rachel Crow, "Looper's" Pierce Gagnon, and "Today" news anchor Natalie Morales.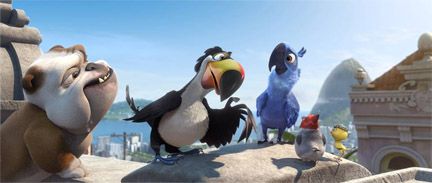 Facing new challenges in raising a family, Blu is once again uprooted from his comfort zone as he meets his father-in-law Eduardo in the Amazon who has obvious reservations on the domesticated Blu. Moreso, compounding the in-laws issue is Jewel's suave ex-boyfriend Roberto (voiced by Bruno Mars) who stirs up Blu's jealousy.
As if ruffled feathers are not enough, familiar and new fiends follow aiming to do some fowl damage on the clan. The conniving cockatoo Nigel (voiced by Clement) has now teamed up with a poisonous frog named Gabi (voiced by Christine Chenoweth) to spoil the party.
"So there's a big adventure to the Amazon," says Brazilian director and Carlos Saldanha. "It's very much a journey for Blu and Jewel's family. Feathers do get ruffled. Threats are very real, however, from the deadly Nigel, the sadistic sulphur-crested cockatoo. He's better and badder than ever. He's a delicious villain."
"Rio 2" in 3D will open April 9 in theaters nationwide (Phils.) from Blue Sky Studios and 20th Century Fox.