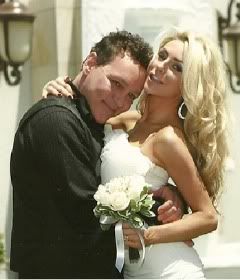 The groom is a character actor at 51 who has appeared in The Green Mile, Lost, 24 and The X-Files. The bride is a 16-year-old aspiring singer. And they just got married in Las Vegas.
So many things are running in my head right now but I couldn't quite get myself to write them down. I just feel disgusted about this. Yeah, I know love knows no bounds but this girl is just too young….way too young. I don't think that there would be a problem if she were a little older, like old enough to vote, but ahhh..I refuse to comment further.
Anyway, the couple was married in Las Vegas because it is allowed there and well, the parents of the girl just had to sign a consent that they are allowing their daughter to marry. They said in an interview that they were very happy for the new couple because they think that Doug is a good person and that he would be a good husband to their daughter. They also said that Courtney is a good girl with good values, a virgin when she got married, and has not undergone cosmetic surgery whatsoever. I have seen the music video of the new bride and well, if you have seen it, I leave it to you to make your own conclusions.
How long will this last? And I wonder, what are the parents of Courtney thinking? But I guess, to each his own then, huh?
On the other hand, women's tennis champion Venus Williams has her own line of fashionable sports ensembles and the outfit below is one of her creations. This was her outfit on the opening day of the Wimbledon.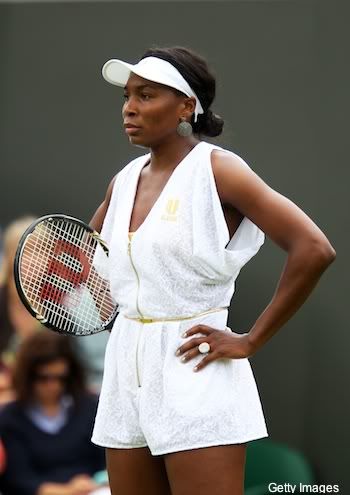 People do not like at all and consider it another fashion faux pas. But honestly, I kinda like it. Oh well, maybe not for playing tennis, but I like the outfit.